Celebrating and connecting with the LGBTQ+ community and allies from across Surrey at Pride in Surrey on 9th September 2023.

Our Project Worker Katy reflected on the event…
"🌈 We had an amazing day talking about our LGBTQ+ youth group and giving out temporary tattoos at Pride in Surrey!
It was incredible to see so many people coming together to celebrate and support the LGBTQ+ community. And meeting other organisations also supporting young people across Surrey was really empowering.
We all have a role to play in increasing visibility, keeping LGBTQ+ people safe, and creating a more inclusive future. 🏳️‍🌈"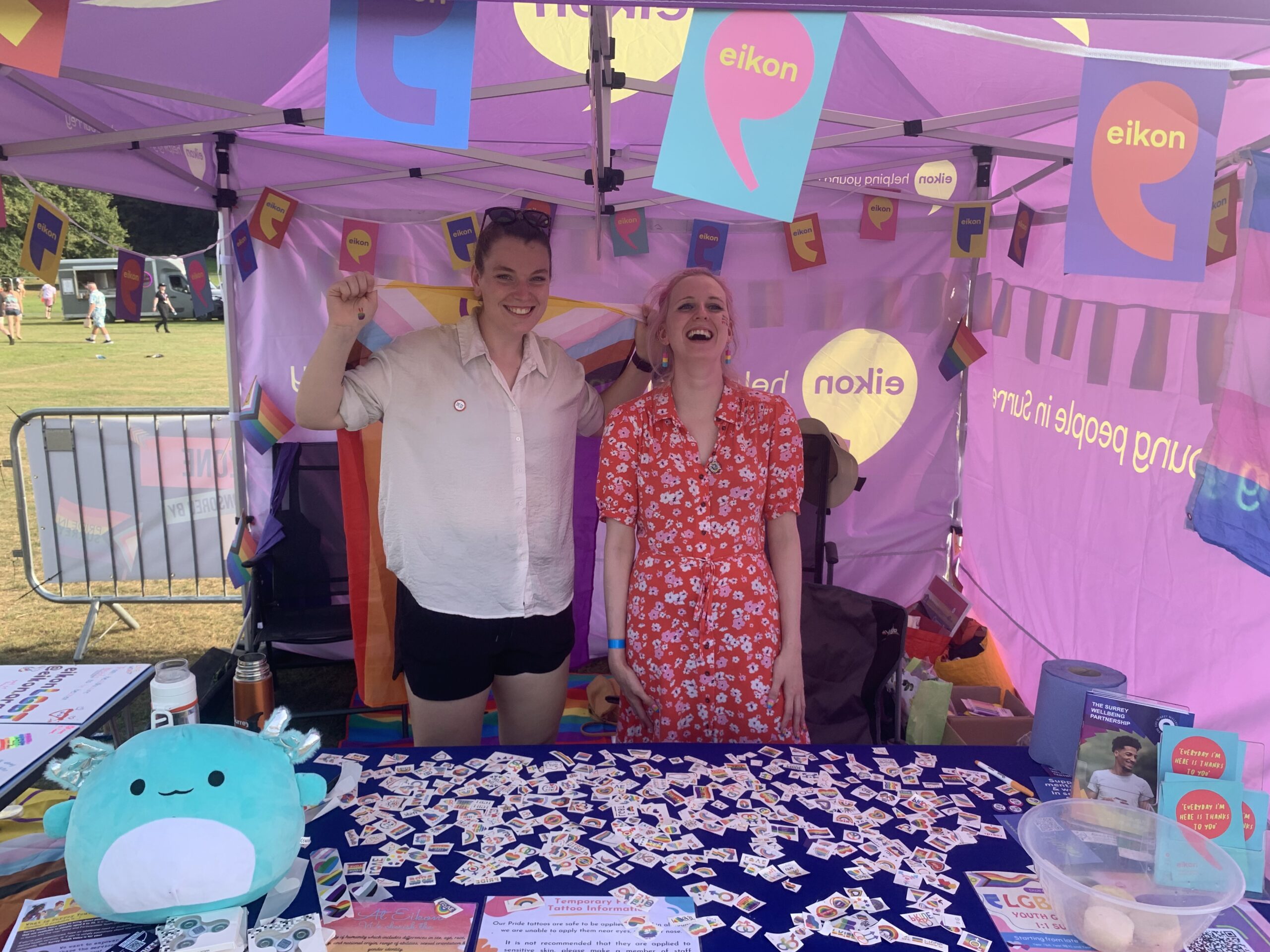 This year at Pride in Surrey, our stall in the youth zone enabled us to have fantastic conversations with young people and families about LGBTQ+ support available in Surrey. We also had our pride mural where everyone could add their message of support, and see that Eikon and others are here for them if they need a place of safety and inclusion.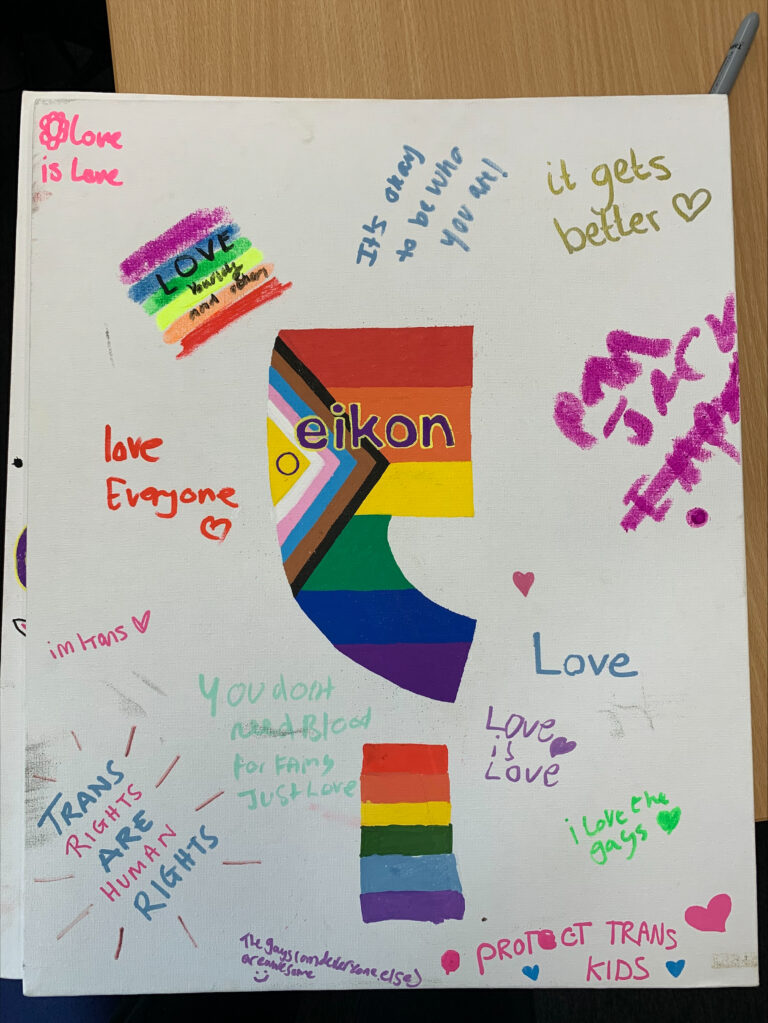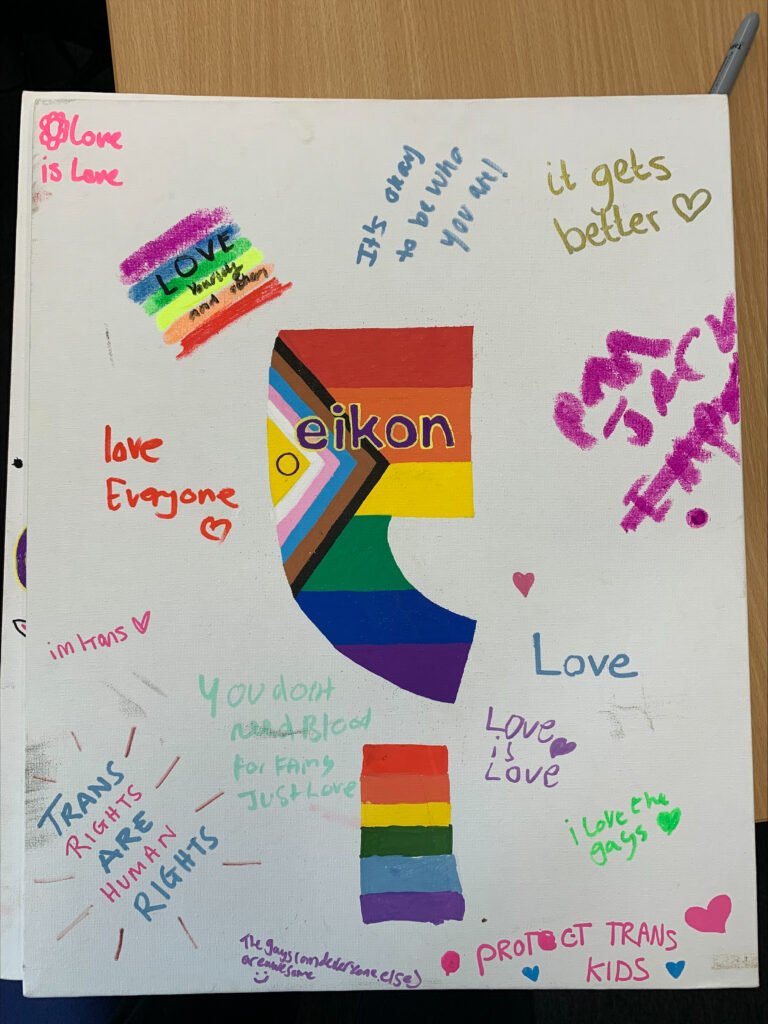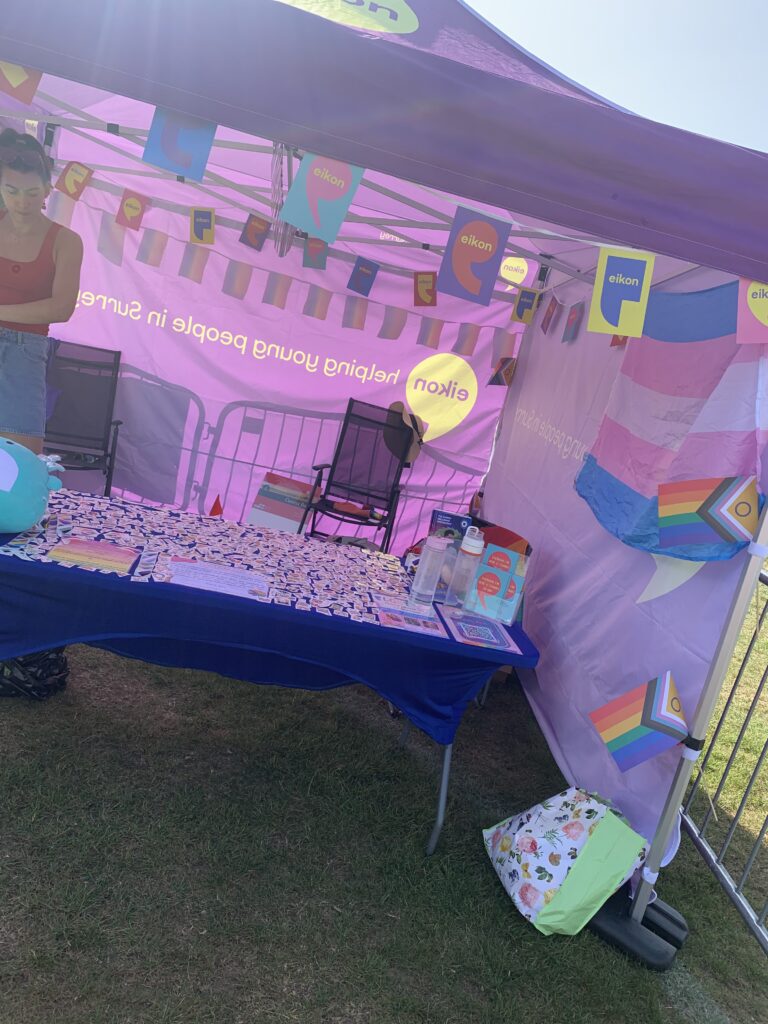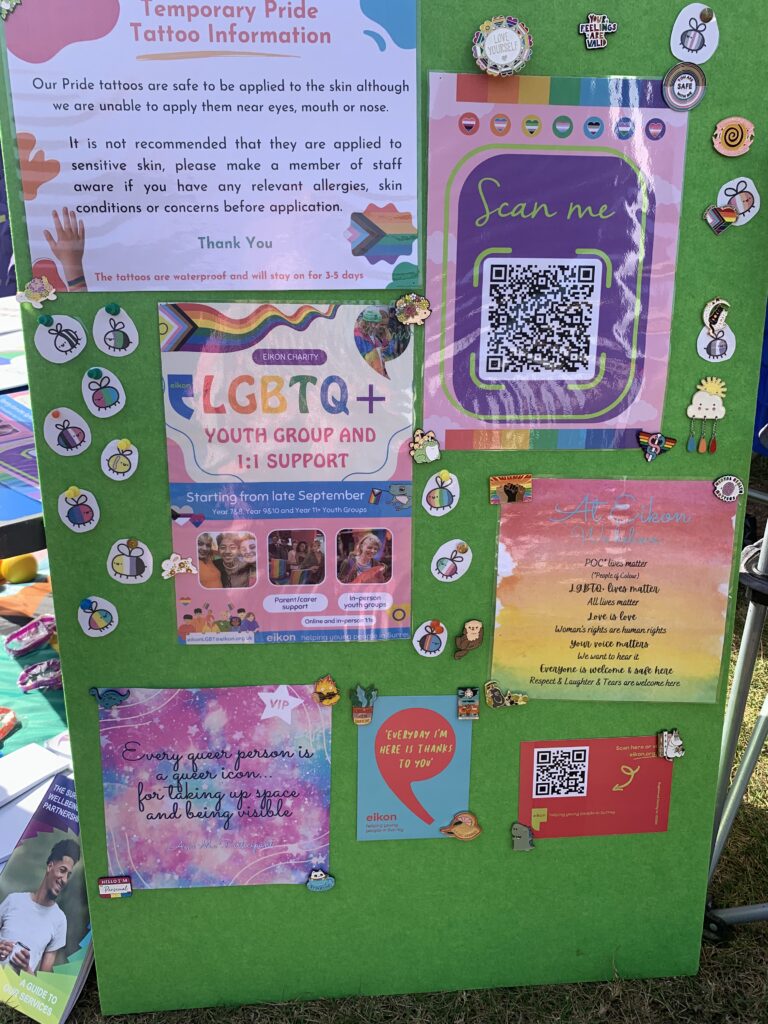 Support for LGBTQ+ young people
Eikon offers friendly, confidential and practical support to all young people in Surrey and their families. We're excited to share that our LGBTQ+ youth group and one-to-one support sessions will be resuming in October! These provide a safe space for young people to access support and guidance, as well as a chance to share and discuss feelings and emotions around being part of the LGBTQ+ community.
Our LGBTQ+ youth groups are safe spaces for questions, support, discussions, activities and to make new friends. Our groups are completely free and open to all young people aged 11-18 (or up to 24 for young people and SEND) across Surrey who identify as LGBTQ+ or questioning. Click the link below to register your interest for our youth groups.
Register your interest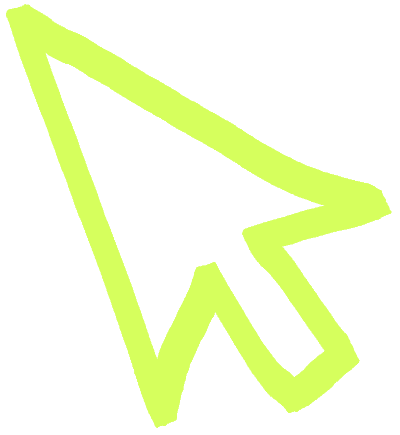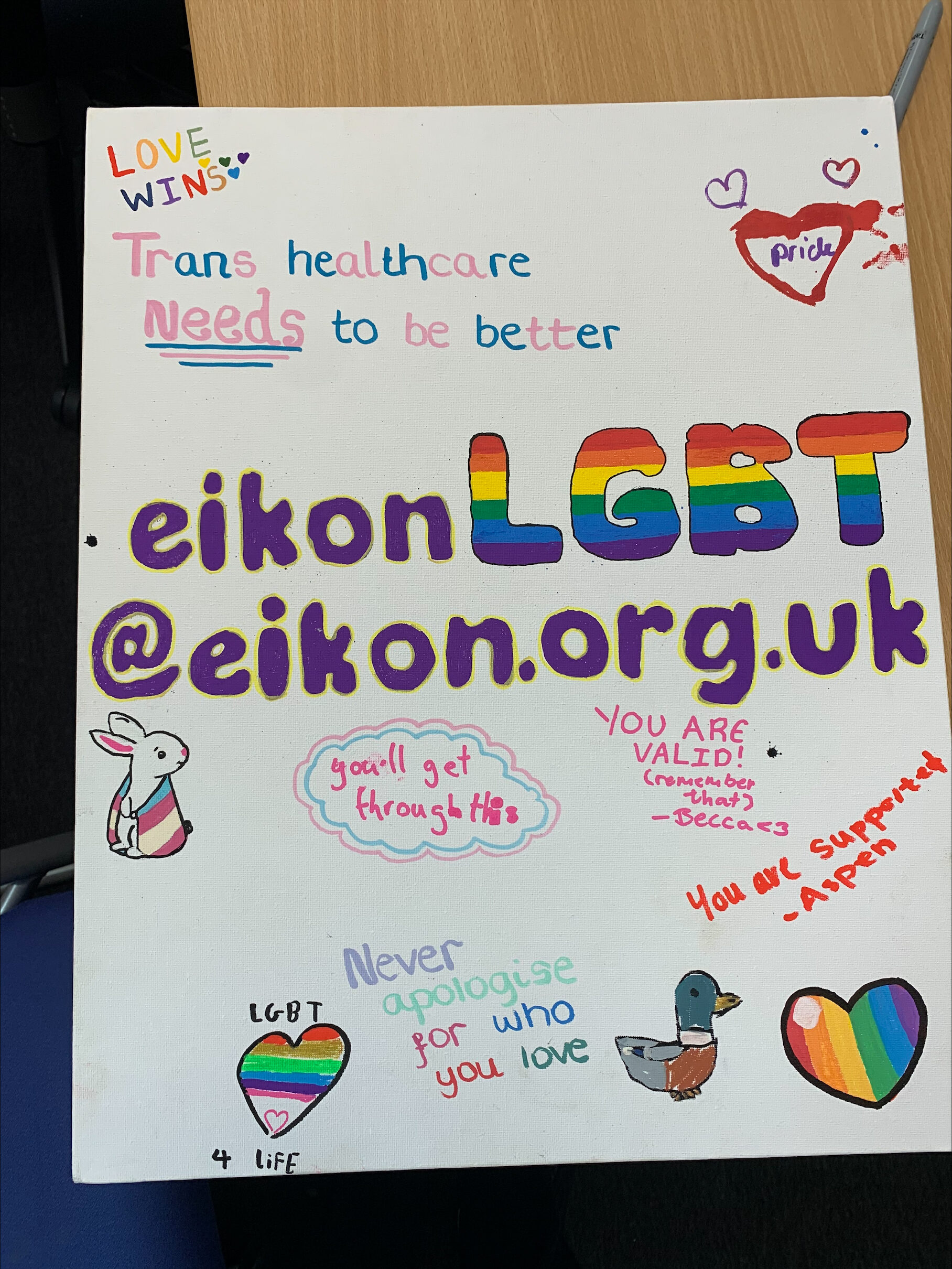 LGBTQ+ support for schools and parents & carers
In addition to our work with LGBTQ+ young people, we support families and schools to foster inclusivity. Parents and carers can access one-to-one support sessions with their young people and/or separately, as well as attend upcoming parent workshops. Schools and colleges can also request visits featuring pop-up stands, assemblies and LGBTQ+ youth drop-ins.
You can reach us at eikonLGBT@eikon.org.uk to book a visit or find out more about any of the above.